The people behind Gelato Factory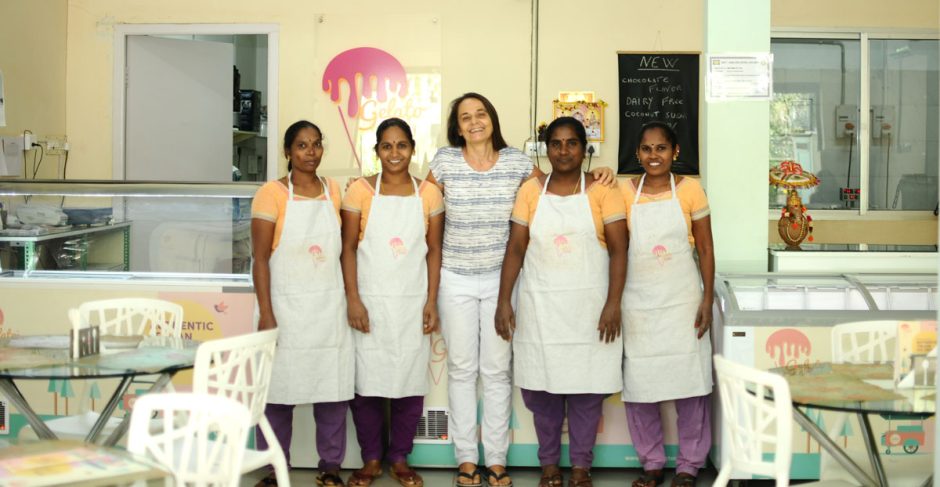 The people behind Gelato Factory, Silvia Latini and Francesco Carboni, have two great passions which have driven their creation of Gelato Factory.
Our first passion is good food and taking great care over the ingredients that go towards making a healthy product. In an era of standardized tastes and fast food chains, our Gelato Factory products are made on a small scale.
Our second passion is India, with its ancient cultures and traditions. We have had working ties with the continent for over 25 years, importing and distributing in the European natural market Indian ayurvedic, herbal, organic and fair trade products. In this new venture we are transferring our values into Gelato Factory.
Gelato has redefined the ice cream eating culture worldwide, because it is a natural, fresher, low fat and more nutritious than industrial ice cream. The gelato culture is spreading very quickly around the globe and in India it is a brand new concept.
The recipes and the expertise that go into making Gelato Factory flavors come from Frascati, a small village near Rome, in Italy. Roberto Troiani from Gelati Divini is our teacher with thirty five years of experience. Even today we do not use any ingredients which are not natural and fresh. We are proud to say that our gelato is 100% preservative-free. Our gelato is 100 % natural and extremely low fat. With vegan options, diabetics friendly flavors and a growing presence of organic ingredients.
We have been able to achieve this standard as our recipes, machinery and production methods adhere to the authentic Italian way of preparing gelato.
Our aim is to satisfy the customer who appreciates good taste and value for money. We also attract the health conscious individual as our product is what some would call a "healthy alternative dessert. We see our gelato as "an affordable luxury".
Gelato Factory … we are not just another ice cream brand !